ESL China UPDATE: The Story So Far for DADA, VIPKID, MagicEars, GoGokid, BlingABC and more….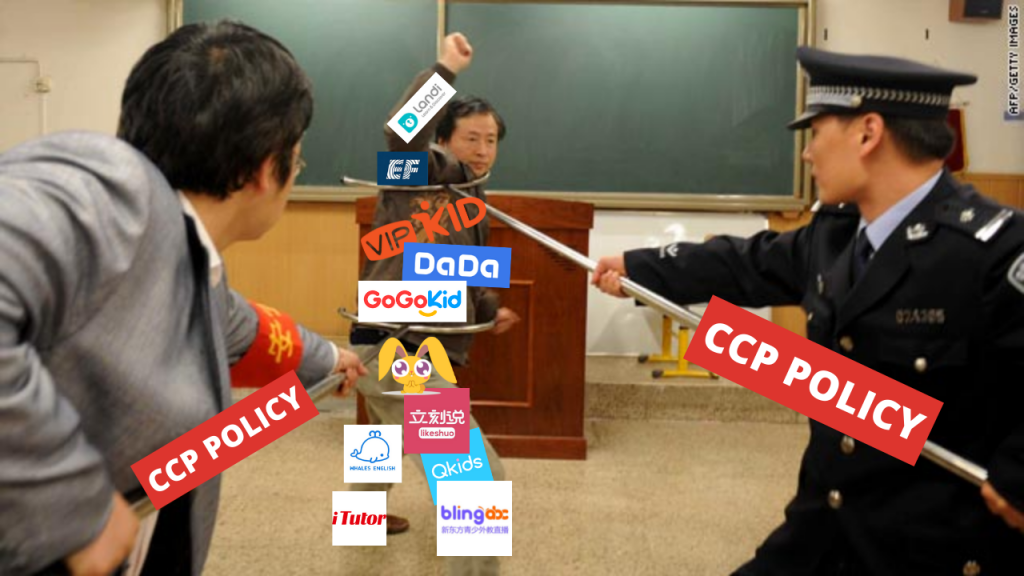 ESL China UPDATE: The Story So Far…..
By now we`ve all heard about the new measures brought in by the Chinese Government. Classes limited to 30 minutes and no later than 9pm. No classes at weekends and during holidays. And most worrying for us, a ban on foreign teachers based overseas. Confusion, however, still reigns and with the situation changing daily, the impact on us, as teachers remains unclear. This week, we`ll look at the responses from some of the main online companies and hear from teachers affected by the change. 
THE COMPANIES
VIPKID 
On August 7th VIPKID issued a statement that it would stop selling new packages with foreign tutors, though previously purchased classes would continue, adding that, as many parents purchase packages well in advance, they hope to supply teachers with classes for several months. VIPKID  is also exploring new options including tutoring kids outside China and providing classes to adults. 
"The business, however, will look different than it has to date. We want to take this opportunity to share our plan for moving forward as we navigate this new era of online education." VIPKID 
GOGOKID
 A relative newcomer to the online ESL industry, GOGOKID  announced that they are suspending its curriculum with immediate effect on 5th August 2021
MAGIC EARS 
Subject to a lot of confusion on social media, Magic Ears issued a statement saying they would "continue to honour their contractual obligations with the parents who have already purchased classes" and that they hoped this would ensure the continuation of classes for "many months".  They added that they "feel confident that we will be functioning well for approximately another year."
QKIDS
Like VIPKID, QKIDS  has pledged to continue teaching its existing courses, but from August 10th will not be selling any more classes with teachers outside China. It also plans to expand it`s product lines to students outside China and adults within China. 
WHALES
On August 19th, 2021, Whales issued a statement apologising for the fact that teachers had woken up to find their classes removed without warning. They went on to state that, "considering the latest regulations issued by local authorities on August 18th, Whales English has suspended the existing curriculum offered to all Chinese students effective August 19th, 2021," and that "all classes, beginning August 19th, 2021, will be cancelled from your schedule with immediate effect."
DADA 
In an initial statement on August 10th , Dada stated that, "Starting from August 10th, 2021, DaDa will no longer sign or renew any new contract for domestic students in China".
However, on August 23rd teachers had classes for the remainder of August removed from their schedules and received the following announcement. 
"According to the latest government policy regarding education, students are not allowed to take classes during summer holidays," adding that "remaining classes during summer holidays will be cancelled from tomorrow," but that  "classes will resume from September 1st."
LANDI ENGLISH
From August 11th, Landi English suspended recruitment "due to the risks related to the new rules and regulations issued by the Chinese State Council"
BLING ABC
BLING ABC released the following statement on August 10th:
"We have not received any instructions to alter the current state of the services we are providing," adding that, "Until we do, classes will continue to be delivered as usual"
An update was sent to teachers on August 18th. 
"Due to recent government policies in China, online classes must be capped at a duration of 30 minutes starting from September 1st." 
The issue of classes during weekends and holidays and the ban on employing foreign teachers based overseas has yet to be addressed. 
THE TEACHERS
So, how have teachers been coping with the changes and how do they feel they`ve been dealt with by the companies? 
Chiz, has worked for abc360 for 4 years. "On 10th August we started work as normal," she says,  "We were then told that all classes were cancelled and there would be no more classes until September." Alarmingly, when she tried to withdraw the money she had earned, she was greeted by an automated message stating "System under maintenance." Adding to the stress and worry , Chiz says, is the fact that "we are receiving next to no information at the moment."
Marie, an ESL teacher with 13 years' experience began working for itutorgroup when her language school closed during the pandemic. "It was a godsend at the time" she explains, "Although I have a teaching position in a school starting in September, I feel sorry for teachers who rely on this as their sole source of income." Marie has yet to receive any official information from the company. 
Caroline has worked for several online companies over the past three years. "When I first heard about the changes, I was thrown into a panic as this is my main source of income," she says. After considerable thought, she is now hoping to move away from teaching altogether and pursue her dream of becoming a freelance graphic designer. "Maybe it took these changes to force me out of my comfort zone and into something I would otherwise have kept putting off." 
PRAYING FOR TIME 
At this pivotal time in the online teaching industry a lot still remains unclear. With some companies already closed, some planning to ride it out for the next few months, and some planning to expand into new markets, many teachers are praying for time and hoping their classes continue at least while they explore other options either in online ESL or other fields 
"It`s been really tough" said Jenifer, an online teacher for five years, "I applied to 15 different companies today and I`m exhausted. I`m going to miss the kids so much"
*Update: Since the time of writing VIPKID have announced that all classes for the remainder of August will be cancelled. A sad reminder of the rapidly changing situation.
How have you been affected by the new Chinese policies? How do you feel it has been handled by your company? Leave a comment below. 

BLOG BY CLAUDIA JACKSON