What non-Chinese Online Schools are SERIOUSLY hiring right now?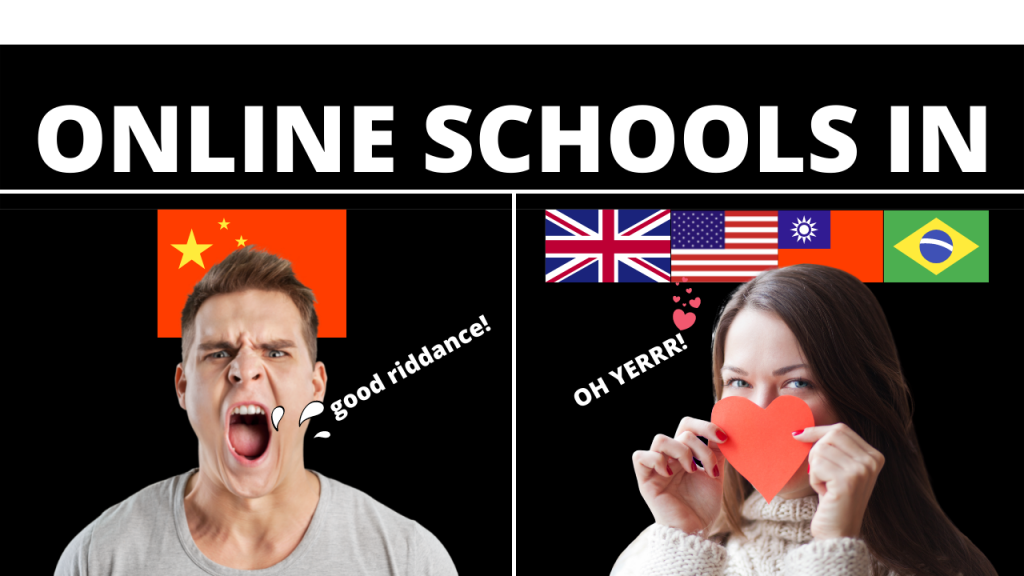 ESL China: Where do we go from here? Whatever you're looking for we have the (non-Chinese) company for you. 
BY CLAUDIA JACKSON
With the imminent collapse of online ESL in China, many teachers are looking for opportunities with companies based outside China. Though they tend to be smaller, less visible, and harder to find than their Chinese counterparts, and it's true that the rates of pay tend to be lower, there are still some good companies out there! Let`s have a look at a few of them today. 
First things First
In the current climate, with thousands of teachers going for the same jobs, it`s more important than ever to stand out from the crowd. 
A professional-looking, eye-catching CV is the first step to landing an interview. As well as listing your relevant qualifications and experience, including a great photo and any relevant information that will make you stand out. There are a number of online templates that will help you build the perfect CV. Check out

resume.io

 

Canva

and

picmonkey

 

A TEFL certificate is a great investment that will open many doors in your teaching career as most reputable schools require one. For online teaching most employers require a minimum 120-hour accredited course. Try this one from TEFL INTERNATIONAL

Most online ESL companies want a brief introductory video so have yours prepared in advance. Check out these

tips

on how to make a great video. 

Cast your net wide. Due to the situation in China, many non-Chinese companies are saturated right now and may even be on a hiring freeze, so now is not the time to be fussy. You can always apply again when things settle down. 
Below are a range of companies with different application requirements, students, class types and pay rates, including platforms where you plan your own lessons and set your own rates and those where materials and bookings are provided by the company.
Hopefully, you will find something that is perfect for you!
NIL English 
A small company based in South Korea that provides mostly conversational classes in 10-minute increments. 
Students

Kids and adults from 6-70 years

Requirements

Native speaker from the USA or Canada. Bachelor's degree (or working towards). TEFL certificate. Experience teaching children.  

Pay

$1.50 per 10 minutes ($9 per hour) rising to $2.50 per 10 minutes after a few months ($15 per hour) 
To apply to NIL English click here
Based in the US, Cambly provides one on one video classes and focuses on conversation practice. Students can talk for as long as they want in increments of 10 minutes. 
Students

Kids and adults from all over the world.

Requirements

Native speaker from the United States, Canada, UK, Ireland, South Africa, Australia, or New Zealand. No previous experience, degree or TEFL required, though for teaching kids experience is preferred. 

Pay 

Adults:

$0.17 per minute ($10.20 per hour) Kids: $0.20 per minute ($12 per hour).
Outschool 
Looking for a change from teaching English? With Outschool you can create your own classes and teach whatever you like. Great for teachers with expertise or skills in niche areas. 
Students

Kids aged 3-18 from all over the world.
Requirements 

Teachers must be over 18 and from the US, Canada, Australia, New Zealand, or the UK. No degree or teaching experience necessary. Background check required. 
Pay 

Teachers create their own lessons, set their own rates, and get paid per student, not per class making it potentially very lucrative. Outschool take commission of 30%.
        To apply to Outschool click here
Open English  
The biggest online ESL company in Latin America. Open English provides lessons 24/7 
Students

Adult individual or group classes. One to one Junior classes with kids aged 8-14. Open English "centers" provides group classes in centres all over Latin America. 

Requirements

ESL professionals from North America with a TEFL and at least one years' experience. Spanish or Portuguese language skills are a plus. 
To apply to Open English click here 
Preply
Preply is a platform that teaches a range of languages to students from all over the world. 
Students

Mostly adults.

Requirements

No degree, TEFL or teaching experience required. 

Pay 

Teachers set their own rates but be aware that Preply take a sizable commission and you are in competition with a lot of other teachers so it's important to price yourself competitively. The first (trial) lesson the company take 100% commission, so you are basically teaching for free. After that, commission is 33%, dropping to 18% the more you teach. 
To apply to Preply click here
Italki 
Italki provides a platform for teachers to connect with students from around the world for one-to-one lessons. 
Students

Mostly adults

Requirements

Native/ C2 level of English. An accredited 120-hour TEFL certificate

OR

a degree in Teaching English as a Foreign language,

OR

a  national or state teaching licence

OR

proof of employment at an English language institution. 

Pay 

Italki teachers can set their own rates starting at $10 per hour. Italki charge 15% commission. 
To apply to Italki click here
Starkid
A relatively new start up, Starkid is based in Hong Kong, so not subject to the new Chinese regulations. Bookings are made by the company at least 24 hours in advance. 
Students

Kids from 4-12 years
Requirements

Native speaker with a neutral accent from US, Canada, UK. Bachelor's degree. TESOL/ TEFL certificate and teaching experience, 

Pay 

$10 per 30 minutes plus bonuses up to $25 per hour
To apply to Starkid click here
Novakid
With offices all over the world, Novakid provides all lesson materials on its platform. Lessons last 25 minutes. 
Students.

Children aged 4-12 years from all over the world including Russia, Poland, Turkey, Germany, and Spain.

Requirements

Native speaker from USA, UK, Ireland, Canada, Australia, New Zealand, South Africa. Near native speakers with BA degree or higher. Minimum one year teaching experience. Online experience is a plus

Pay

$5-16 per hour
To apply with Novakid click here
We`d love to hear about your experiences with any of these companies or any others we haven't mentioned. Leave a comment below!