Is Online English Teaching the best job in the world?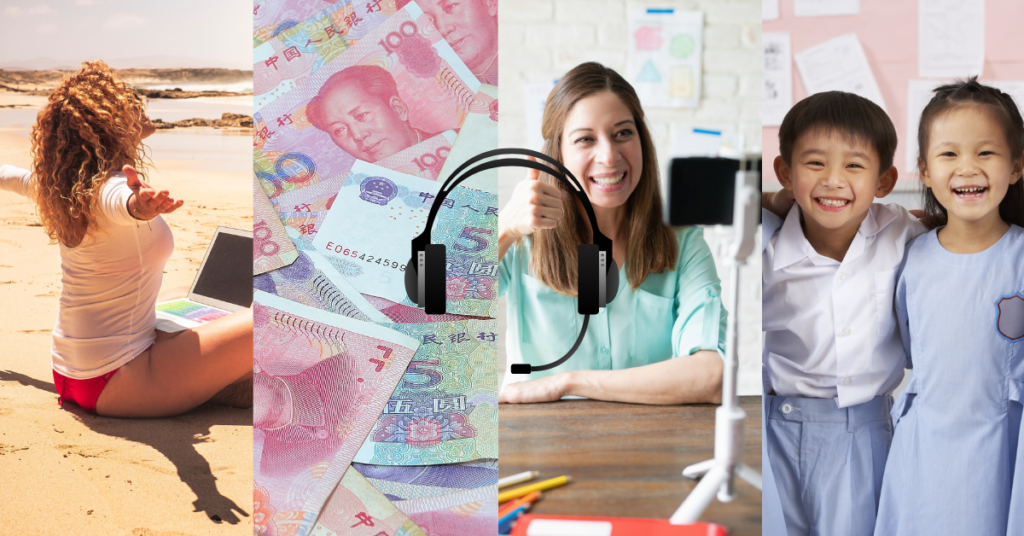 The best job in the world? The perks of being an online English Teacher. 
BY CLAUDIA JACKSON
I never wanted to be a teacher. My background was in healthcare, first as a nurse and later as a medical translator where long hours, heavy workloads, late nights, and early mornings were the name of the game. Then life and circumstances brought me to Spain, and without the necessary language skills to continue in my chosen field, I had to start again. 
"I have some students for you" said my Indian friend Chaya one day over lunch. "Students?" I replied with a blank stare. "Two girls" she continued, "Teenagers. They need help with their English homework"
"But I`m not a teacher" I said weakly as Chaya waved my protests away. "You`ll be fine" she said. 
And so it began. Over the next few months I built up a steady stream of private students and spent my free time searching for materials online, photocopying handouts and trying to wrap my brain around relative clauses and the past participle. Slowly, my confidence grew, and I began to enjoy teaching. It was fun! 
In Spain there seem to be "academies" or language schools on every corner, as Spanish parents, desperate for their kids to learn English, fork out for after school classes. Deciding to carve out a career in ESL teaching I applied to a few of them, but without a TEFL certificate or any classroom experience, nobody would hire me. So I scraped together what little money I had and did the CELTA, an expensive, month-long course that turned out to be well worth the time and money. Before I had even finished, I had found a job and my teaching career was off the ground. 
Now my free time revolved around preparing lessons, teaching, marking assignments, meetings, and more meetings. Unlike my private students teaching large classes was a challenge. From large groups of overexcited kids to unmotivated teens and high-level adults with a million questions, they all wanted different things. And then there was what the academy wanted. And what the parents wanted. Add to that the unsociable hours, poor conditions, and the amount of unpaid hours I was expected to work every week and after 2 years I was burnt out. Teaching wasn't fun anymore. 
"Have you thought about online teaching?" said Mike, a co-worker, as I gave him a lift home from work one night. "Chinese kids" he continued, "You can work mornings. They give you all the material. And it`s good money"
And so it was that I discovered the world of online English teaching. After a few false starts with some less than reputable companies, I found the company I love, enjoying  it so much that I quit the academy six months later to teach online full time. 
Here are a few of the perks of teaching English online! 
Working from Home
Crawl out of bed at 09:30 am. Brush teeth. Coffee. Shower. Throw on a "reasonably presentable" top and the bottom half is up to you! (Shorts, yoga pants, actual pants, no pants- as a Brit, it always makes me smile when Americans say they teach without pants, but whatever floats your boat!)  I tend to go for shorts and bare feet in summer, leggings, and fluffy slippers in winter. As work attire goes, it doesn't get much better than this. 
No Colleagues.
I`m not an antisocial person. In fact I`m generally up for a coffee or a glass of wine and a chat, but lets face it, colleagues can be annoying. There`s always that one who……well you know who I mean. Nowadays I share my office with Geoff the stuffed Panda from IKEA. And we get on just fine. 
No Commute.
A plus, not only for us, but for the environment. No more crawling through traffic or waiting ages for a bus to get to work on time. I`m already here! 
Flexible Hours
This varies depending on the company you work for, but most online companies are pretty flexible with regards to the amount of classes you teach, though they may require a weekly minimum. The time zone your students are in also makes a huge difference as the majority of classes are after schools and at weekends. For me China is a handy six hours ahead of Spain, so my mornings are their afternoons/ early evenings. Happy days! On the other hand if you're in North America, the hours are great if you have kids or a day job. An early start, but by the time everyone else gets up, you're done! 
No Preparation, Marking or Unpaid Meetings
For me, this was the final nail in the coffin of teaching in a brick-and-mortar school. The endless unpaid hours. With most online platforms providing all the material, you get to focus on what you really want to do. Teach! 
Better Classes for Students (and Teachers) 
Online teaching is an altogether more intimate affair than the classroom environment and one I believe is conducive to a better experience for both student and teacher. With an interactive platform, the materials are right there -no rummaging in bags for missing papers or forgotten books. In the home environment you are both more relaxed, and even in group classes students get more individual attention. With fewer chances to misbehave, less time and energy is spent on classroom management. 
Which brings me to… 
The Mute Button
I don't need to say much about the mute button, except that it is every online teacher`s best friend. Apart from the occasional rowdy student, there`s always background noise, a parent talking loudly on the phone, a TV on full blast and the dreaded feedback echo. If only people had them in real life!
Fun
There have been days when I have found it hard to believe I get paid for doing this job! The students themselves are a major reason to love online English teaching. They are silly, funny, quirky, and sharp as buttons. They made teaching fun again. 
What do you love most about online English Teaching? Leave a comment below!