Volunteer to Teach Kids in Ukraine (Online)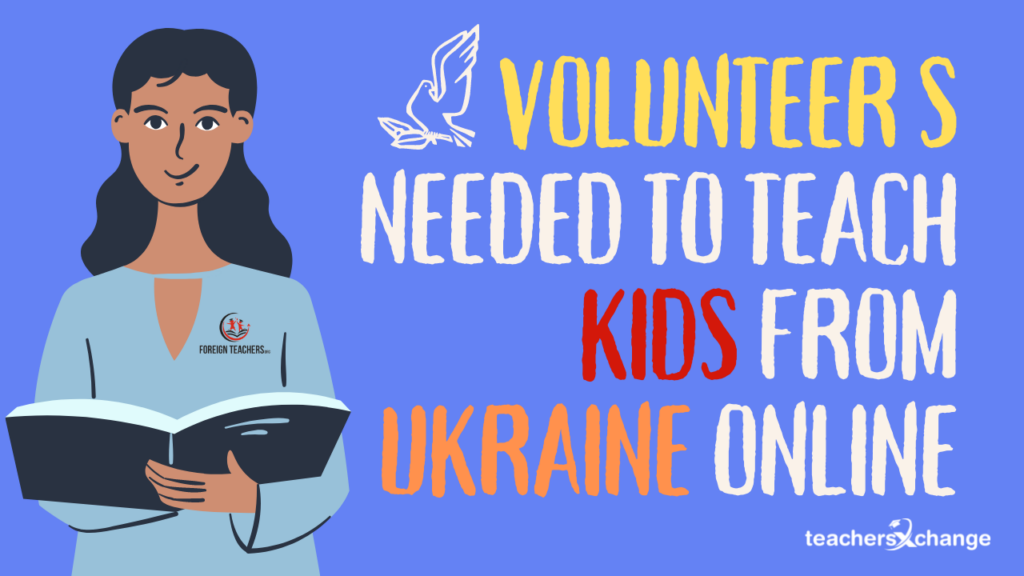 TeachersXchange has decided to support Foreign Teachers Org Ukraine English Program
I was recently approached by Scott & Jun about their charity project. They have contacts in Ukraine and what to help provide free English lessons to kids there during this difficult time.

I had been planning a similar project in Cambodia. I was going to use some profits from my new startup www.Oncher.App to set up Starlink internet and a digital classroom in a rural Cambodian school so that I could provide the kids with Free Online English lessons.
So I was Instantly Interested & willing to help in whatever way I could. We also decided to join forces on the Cambodia project that I hope to run in 2023.

Why should you help kids in Ukraine?
Schools in eastern Ukraine closed as hostilities escalated, leaving an estimated 350,000 children with no access to education. Some schools in other areas of Ukraine had closed due to the COVID-19 pandemic but others have remained open, with reports that some parents are sending their children wearing stickers denoting their blood type as they fear for their safety.

English skills could be vital for the future of these kids' lives!

You may say "Why have you not offered free lessons to kids in other war-torn countries or other disadvantaged children around the world?". Well actually I have, I partnered with EWF GLOBAL a few years back and helped raise money for an orphanage in northern Thailand so that they could buy tablets and study Online for Free.
Here is a promo video I made for that Charity back in 2019
Unfortunately, the founder of EWF GLOBAL went quiet last year and it seems it is no longer running.
I had been thinking about setting up something similar myself for a while, so when Scott & Jun approached me it was a no-brainer that we should team-up.

I can see this project growing to be far more than only helping kids in Ukraine access Education.

So, what is FT's English Language Program? & how can you help?
FT's are looking for remote English Teachers who are willing to give up an hour or more of their time a week to help kids in Ukraine.

Here are all the details: https://docs.google.com/forms/d/e/1FAIpQLSeosXq9jS5r1OUK45j0z2Nc9EOzjwRjWj0lt3cstHvte1Vzcg/viewform
📍What is the aim of FT's English Language Program?
👉🏻 This program is designed to help young Ukrainians aged 4 – 17 improve their English abilities.
👉🏻 Improved English communication skills will help Ukrainian students future academic studies.
👉🏻 The program will help equip more Ukrainians to share their perspectives and stories with the world in English if they wish to.
👉🏻Classes provide children with a sense of normalcy and positivity, an opportunity to engage with other children and focus on something besides the ongoing war.
📍Recruitment
👉🏻 Recruiting English teacher volunteers who can support a class of Ukrainian children improve their English abilities.
👉🏻 Must be able to commit to regular classes for at least one month (at least one hour a week).
👉🏻 Must be over 18 years old.
👉🏻 Must be a native or fluent English speaker, having Ukrainian language ability is an asset but not required.
👉🏻 Must have ESL teaching experience, preferably experience teaching group classes of children online.
📍What will FT volunteers do?
👉🏻 Be an encouraging English tutor and supporter of a Ukrainian students as they practice their English.
👉🏻 Have fun during learning sessions with your students!
📍Timeline
👉🏻 As the situation on the ground is changing daily, the English program will extend indefinitely until schools are reopened and we are no longer needed.
📍Benefits
👉🏻 Build meaningful relationships and enjoy cultural exchange.
👉🏻 Receive training and curriculum for use with your students.
👉🏻 Volunteer certification.
📍About Foreign Teachers Org
👉🏻 The Foreign Teachers International Charitable Organization is an NGO working to provide modern education and employment opportunities for communities around the world.
📍Contact
👉🏻 Email: Admin@ForeignTeachers.org
👉🏻Website: https://ForeignTeachers.org
👉🏻Facebook: https://www.facebook.com/ForeignTeachersOrg

VOLUNTEER HERE: https://docs.google.com/forms/d/e/1FAIpQLSeosXq9jS5r1OUK45j0z2Nc9EOzjwRjWj0lt3cstHvte1Vzcg/viewform