How to Find, Attract and Retain students online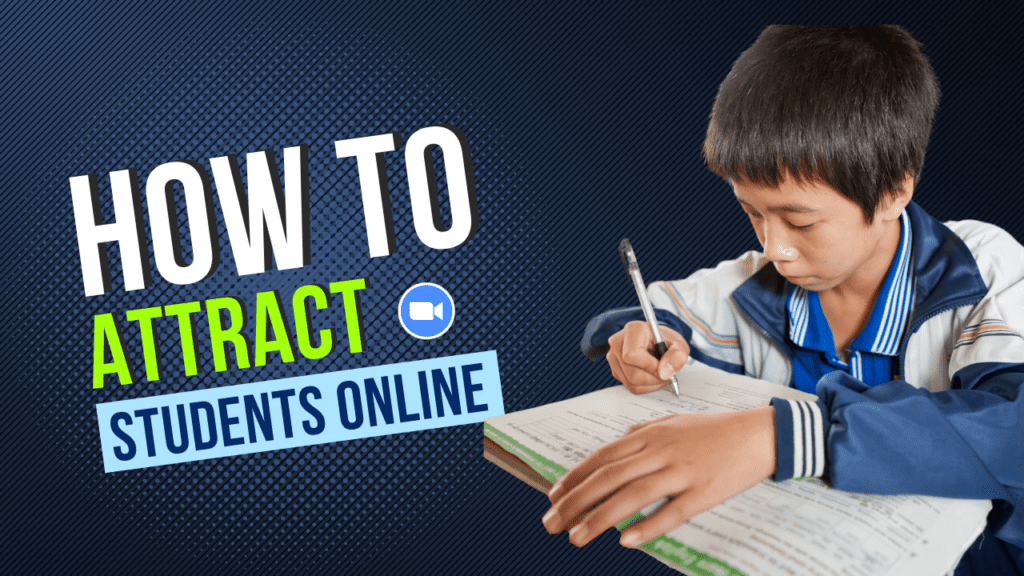 How to Find, Attract and Retain students online
By Claudia Jackson,
So, you've decided to take the plunge, branch out on your own and
become an online teacherprenuer! You've set up your website or chosen
your platform and created your curriculum. So what next? Sit in front of
your computer listening to the sound of crickets as the tumbleweed drifts
past? Put your feet up and binge-watch Netflix while waiting for the
inevitable flood of emails into your inbox.
No.
It`s time to market yourself.
As a teacher, marketing may well be a skill that doesn't come naturally.
One of the biggest perks of working for an established company or school
is that the students were provided for you, right? Now you need to not
only find but attract and retain students yourself. Marketing yourself,
especially when the world and his wife seem to be ESL teachers is hard
work, but as with most things, the more you put into it, the greater the
rewards.
Finding Students
You can be the greatest teacher in the world, but it`s not going to earn you
a penny if nobody knows you exist. The primary goal of marketing is
visibility, and nowadays with the double-edged sword of social media and
the internet, this is both easier and more competitive than ever before.
Before you start marketing yourself, have a think about your audience. If
you were looking for an online language teacher where would you start?
(That`s easy- Google, right?) But how are your students going to find you
in a sea of other ESL teachers? Here are a few tried and tested ways to
boost your online presence.
 Search engine optimisation (SEO) is a vast and rapidly changing
topic, but there are a few simple things you can do to boost your
ranking in the search engine.
 Think about the keywords your students will use
to search and incorporate them into your
website URL and webpage content.
 Ensure your website has relevant, authoritative,
quality content. Think of the questions your
potential students will want answers to and
answer them clearly.
 Offer to write a guest blog post for an
established online teacherpreneur and include a
link to your website. These backlinks are seen as
stamps of approval by Google and will improve
your ranking on the search page.
 Ads
Online ads have the power to reach a vast audience and are a powerful
marketing tool. Facebook ads are relatively inexpensive, and you can
narrow down your demographic to target prospective students. Google
ads operate on a pay-per-click basis, (you only pay when someone clicks
the link to your website) with the price being set by the popularity of the
keyword, so this may work well if you have a niche such as business or
medical English. Target places your prospective students hang out; if you
want to teach students in Spain, post in Spanish Facebook groups relating
to education (preferably in Spanish). You can also use free classified ads
on sites like Craigslist, as well as creating a profile on freelancer sites such
as Fiver and Upwork. Remember to keep your ad short, to the point, and
include your contact details.
 Network
Being active on social media is a must for freelancers. Create profiles on
LinkedIn, Facebook, Twitter, and Instagram and post regularly! Social
networking sites have an algorithm that rewards you for "engagement" so
post regular content, like, share and comment on other people's posts to
increase your visibility. Writing your own blog is a great tool as by
creating engaging content that can be liked and shared across social
media, you increase your scope of reach. Join online groups and forums
for independent online teachers. This one run by Rich Tweten is a great
place to start.
https://www.facebook.com/groups/for.teacherpreneurs.only
 Referrals
Referrals are more powerful than ads simply because people are more
likely to trust it when someone else says you're great than when you say it
yourself. If you have current students you could offer them incentives
such as a discount, a free class, or even a cash bonus for bringing you new
students.
Attracting Students
It's all very well spending time, energy, and money finding students, but
unless they buy your product it will be time and money wasted. Use these
tried and tested methods to not only attract students but to get them to
sign up for classes.
The first thing prospective students see when they click on a link to your
website or teaching platform is your profile. Make sure your profile is
attractive, with a clear layout and professional photo, and be sure to
answer your students' questions by stating your rate, experience,
qualifications, teaching style, and any niches or specialties. It should also
go without saying that your grammar, punctuation, and spelling need to
be flawless, you are teaching English after all!
A great introductory video is an excellent addition to your profile, as it
allows students to see, not only who you are and what you do, but how
you teach, so try to include a clip of you teaching or a mini-demo. Keep
the introductory video short, 2-3 minutes should suffice, and remember to
speak clearly and smile, smile, smile!
We all like to get something for free right? Or at least feel like we are
getting a bargain. Offer discounts to lure in students, be it first lesson free,
first five lessons half price, or a free lesson when you purchase a pack of
ten classes. As with referrals, high ratings, and glowing references from
satisfied customers carry a lot of weight so be sure to include testimonials
from happy students/parents on your profile or website.
Retaining Students
There`s no quick fix or social media hack for retaining students. The
bottom line is, if your students enjoy your classes, feel that they are
learning and improving, and are happy to pay your rates they will stay. Not
only will they stay, but they will recommend you to their friends and
attract more students by leaving you great ratings and reviews. In addition
to top-notch class content and a patient, friendly teaching style,
professionalism goes a long way, so respond to queries quickly, address
any concerns or complaints immediately, look smart, be on time, prepare
for the class well in advance, and set clear learning goals and objectives.
For a complete guide to setting up as an independent online teacher,
check out this masterclass from TeacherXchange
Have you made the leap to becoming a teacherprenuer? Do you have any
more tips for getting started?
References